Day Boat Hire


All the below listed day boat operators have temporarily stopped operating
due to the Covid 19 emergency, following the government's
advice on self-distancing, and the risk to staff and visitors.

We often get calls from people wanting to hire a boat for a few hours, half or full day. We actually only hire out holiday cruisers with a minimum duration of 3 nights. However to assist those who are looking for shorter periods of hire we have put together the following directory of boatyards. Their locations are marked on the map at the foot of the page. We suggest calling them on the numbers listed below.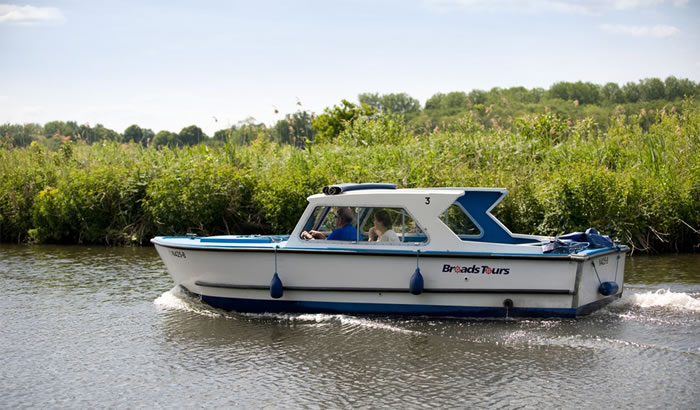 Typical Launch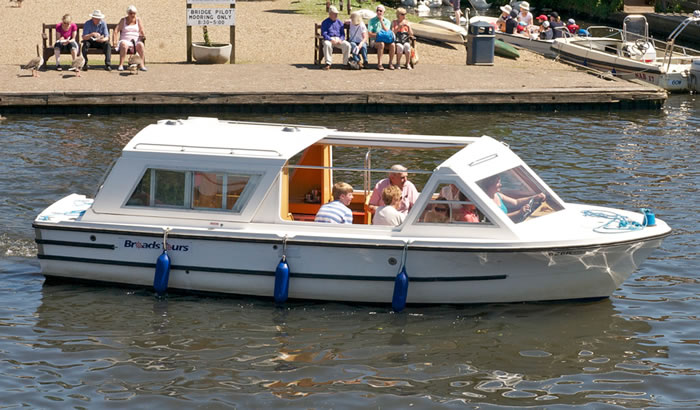 Typical picnic boat
Horning
Boulter Marine Services
Tel: 01692 630498
Launches

Ferry Marina
Tel: 01692 63111
Launches and picnic boats

Norfolk Boat Hire
Tel: 01692 630707
Launches and picnic boats

Norfolk River Cottages
Tel: 07900 954101
Launches and picnic boats
Wroxham
Broads Tours
Tel:01603 782207
Launches and picnic boats

Barnes Brinkcraft
Tel: 01603 782625
Launches and picnic boats

Fineway Leisure
Tel: 01603 782309
Launches and picnic boats

Wroxham Boat Hire
Tel: 01603 783051
Launches

Summercraft
Tel: 01603 782809
Launches
Potter Heigham
Herbert Woods
Tel: 01692 670711
Launches and picnic boats

Phoenix Fleet
Tel: 01692 670460
Launches and picnic boats

Martham Ferry Boatyard
Tel: 01493 748291
Launches and picnic boats
Stalham, Sutton, Wayford Bridge
Moonfleet Marine Stalham
Tel: 01692 580288
Launches

Sutton Staithe Boatyard
Tel: 01692 581653
Launches

Wayford Marine
Tel: 01692 581809
Launches and picnic boats

Banks Boats Wayford Bridge
Tel: 01692 582457
Launches
Acle
Bridgecraft
Tel: 01493 750378
Launches
Norwich
Freedom Day Boat Hire
Tel: 01603 858453
Launches
St Olaves
Bridge Stores
Tel: 01493 488230
Launches and picnic boats
Oulton Broad
Waveney River Tours
Tel: 01502 574903
Launches
Beccles & Burgh St Peter
Hiipperson Day Boats Beccles
Tel: 01502 712166
Launches

Waveney River Centre Burgh St Peter
Tel: 01502 677343
Launches and picnic boat