Norfolk Broads Discounts and Offers Newsletters
Here you will find our archived Newsletters which are emailed monthly to subscribers containing latest offers and discounts together with general advice for anyone wanting to hire a boat on the Norfolk Broads.

To read more, just click an image of one of the newsletters.
March 2020

I'm writing this on meteorologically, the first day of Spring, although it has to be said, with all the wind and rain we've had recently, Spring doesn't seem to have sprung so far! But in less than six weeks first Easter, and then Spring Bank Holiday, will be upon us. So it's time to start planning a little holiday adventure with the family. In this month's newsletter, we're concentrating on the Spring Bank Holiday, with ideas for breaks around the 26th May. We have 4 night breaks starting at £100 per person, and 7 nights at £134 per person.The Spring Bank holiday marks the start of the summer season on the Broads. Everything is open, the boats are still fresh from their winter maintenance, the prices are at their cheapest for a summer school break,and hopefully, the sun will shine.

How Hill, is a very popular stop off point, on the River Bure, around 30 minutes before entering Barton Broad. It has a good stretch of moorings and It's a wonderful spot for a picnic or a leisurely lunch aboard your boat. How Hill is the featured mooring spot in this month's newsletter, with advice such as where the free moorings are, and nearby sight-seeing opportunities. For more on any of the above, see our March newsletter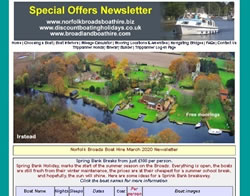 February 2020

It's been a mild winter so far, with very little snow or frost. It puts you in the mood for a little break away from the down-hill slog to the summer. Easter is mid April this year, and with a little luck, the weather could be half decent. So if you want to take the family away on a holiday adventure afloat, Easter is a good time to visit the Broads. All the pubs and restaurants will be open, and the boats will be gleaming following their winter service. We have breaks over the Easter weekend, so Good Friday to Easter Monday, starting at £83 per person. Midweek and week long breaks also available.


We're featuring Great Yarmouth in the newsletter this month. It's not just a large holiday resort. It's also the point at which the northern rivers meet the southern rivers. As such, extra care needs to be taken to moor there or even to just pass through. Our guide will help you find moorings, advise you on how to approach the quay in prevailing tides, and fill you in with the nearest services to the Yacht Station. It's all in his month's newsletter.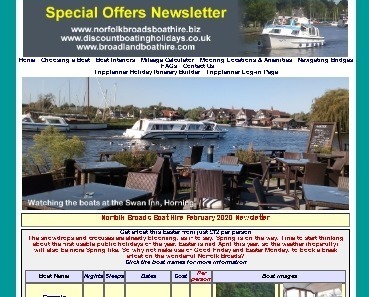 January 2020

Well, what a difference a year makes. Last year at this time, the market was depressed and bookings for the coming summer were down. Early indications for Summer 2020 are just the opposite, with bookings up around 10% on last year. Whether it's that Brexit has been sorted, (at least until the end of the year), or people have just had enough of the economic uncertainty of the last three years, it looks like being a good season for the Norfolk Broads. There are still good deals for early bookers, with discounts of up to 12% throughout the summer. Plus you don't need to lay out a hefty amount to book, as deposits start from just £25 per boat.

Just in the event, you haven't come across it yet, the early Spring May Day holiday has been moved from Monday 4th May to Friday 8th May. This is to coincide with VE Day Memorial celebrations that weekend. So if you normally plan a holiday to include the May Day holiday, beware it's changed.

Ever been to Ranworth and it's associated Broad? For those that haven't, the latest newsletter features this delightful and popular stop off point. We tell you where to moor, the best time to arrive, and provide a guide of what there is to see and do in the area.
Click the image to access the newsletter.