Norfolk Broads Discounts and Offers Newsletters
Here you will find our archived Newsletters which are emailed monthly to subscribers containing latest offers and discounts together with general advice for anyone wanting to hire a boat on the Norfolk Broads.

To read more, just click an image of one of the newsletters.
November 2022

Well, the boating season is more or less at an end and now begins the task of lifting the boats in preparation of them being worked on, to get them looking refreshed when the new boating year begins around mid-February. We've already put the clocks back, so we know we're all on our way to shorter days and miserable weather between now and then. Neverthless, bookings for next year, especially the summer school holidays, will continue strongly for a while yet. So this month's newsletter is focused on what's available over the key six weeks or so of the children's school holiday. Understandably, disposable income will be tight for some, so I've hand-picked a variety of offers that range from budget through to superior boats. There's still good availablity, though once the booking season proper gets going in January, the best deals will go first.

Horsey Mere, that's an unusual name isn't it. It refers to a broad located the far side of Potter Heigham bridge. As few boats can reliably get under this bridge, the areas above (around 5 miles of river) have been protected from the commercialisation you see in some centres, and the feel when cruising, is that you're almost travelling back in time. Horsey Mere leads on to Horsey Dyke and it's windpump, a very picturesque setting. The best way to visit if you can't get under the bridge at Potter Heigham, is to moor up and hire a day boat from one of the local boatyards there. It's well worth a visit. To find out more about what there is to see, where you can eat and the free moorings, see our latest newsletter.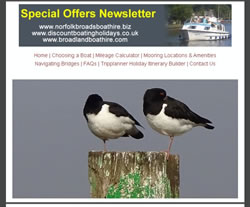 October 2022

The end of the boating season is almost upon us, though it won't go out without a last hurrah for the October Half Term week. The last week of October will see an increase in the number of visitors, wanting to make the most of this last usable school holiday of the boating season. It's popular as the prices are around half that of August, and everything is still open and welcoming. The pubs, restaurants and shops don't start to wind down until the start of November. So if you're trying to think of somewhere that you can get all the family together before winter proper sets in, you'll find a few suggestions in our latest newsletter. Prices start at £113 per person including fuel deposit and security waiver aboard the six berth San Lucia from Stalham (details in the newsletter).

Burgh Castle is a small village on the edge of Breydon Water, so quite close to Great Yarmouth. As such, it makes a good stop off point to wait for the tides to lower should you craft need more headroom to get under the bridges at Yarmouth. Burgh Castle has it's interests and is worth a visit in it's own right. The village is named after a third-century Roman Fort, the walls of which can still be seen on the adjacent site. Also, a pathway along the edge of Breydon Water will delight those who like spotting wildlife. For more information, including help on where to moor for free, see our newsletter.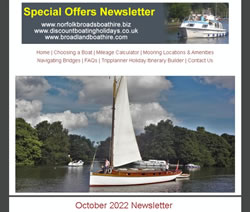 September 2022

The weather has overall been really kind to us over the summer school holidays, and it won't be long before the children are back in class. But that doesn't have to be the end of the family adventures this year. The kids are off again in the October Half Term week, and recognising this, one boatyard has reduced it's prices by 10% for all holidays and short breaks beginning anytime in the month of October. So whether you want to relive your week's break with the kids, or just spend time with your partner for a few days outside the school holiday, you can now do it at a discounted price. Prices are already up to half what they would be in August, and the rivers are much quieter meaning you're more likely to get your first choice mooring spots.

Bookings for 2023 are already coming in, so there's a feature in our latest newsletter discussing how to search for the facilities you desire in your ideal cruiser. The village of Coltishall, to be found beyond that bridge in Wroxham on the River Bure, is a lovely place to spend a day or overnight. Picturesque free moorings and a choice of eating places, plus what there is to see are highlighted in the newsletter.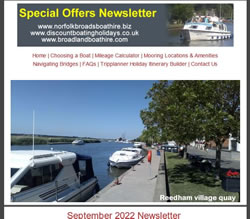 August 2022

The summer seems to be ticking on at an alarming rate. The last public holiday of the summer is on Monday 29th August. Rather than just letting it slip by, why not organise a family adventure on the Norfolk Broads. We have 3 night weekend breaks starting on the previous Saturday, 4 night midweek breaks beginning on the Bank Holiday Monday, and full weeks available for those with enough annual leave remaining. Prices start at less than £150 per person onboard Broadland Orion, a 4 berth cruiser available on the 27th August for 3 nights. I've come up with twelve example breaks which I think will suit all pockets, detailed in this month's newsletter.

This month, we feature the little village of Surlingham on the River Yare. The moorings are outside the well thought of Surlingham Ferry Inn. This community run pub is situated on a bend in the river, just a mile or so from Brundall. There's lots to see and do once there. Read our guide to the village which details where to moor for free, what's worth seeing nearby and find out about the "graveyard" holding 13 wherries which were purposefully scuttled here.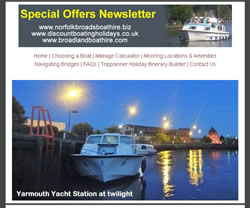 July 2022

Last month's newsletter focused on boating holidays on a budget, bearing in mind the huge price rises we have all seen recently in the general cost of living. With the delays and cancellations at our airports, many people are deciding to opt for another holiday within the UK this year, in the hope that overseas holidays will be more attractive in 2023. So I thought this month I would highlight some breaks over the summer school holidays, which feature our superior range of cruisers, for those who might have gone for four star accommodation overseas. I've selected twelve such craft as examples of what's still out there, in this month's newsletter.

For those who haven't come across it yet, there's a mileage and journey time calculator on the site, Select your start point from one of the 38 locations listed, then a destination and quick as a flash, you'll be presented with stats on the journey time, the actual river mileage, the tidal rise and fall at the destination and useful notes if the route includes stopping or passing through Yarmouth. There more info and a link to the calculator in the newsletter.

This month, I've included a guide to Hickling. This pretty village is located above Potter Heigham Bridge and as such, may be a block to those people unable to get their boats under. But as it's easy (and desirable) to hire a day boat from Potter Heigham to explore the upper reaches of the Thurne, I've included the village in the newsletter.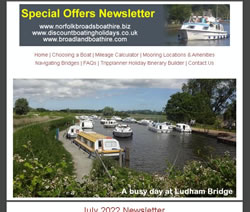 June 2022

The cost of living is on everyone's mind at the moment. Prices are rocketing just as thoughts are tuning to the annual summer school holidays. So what can you get for less than £1,000 for a family of four on the Norfolk Broads? This month's newsletter explores just that and comes up with twelve holidays starting at £616 for a family of four on Clarion, from the 22nd August for 4 nights, and £859 for 4 people onboard Chelsea Bridge for the week commencing 29th July. These are just a few examples of the affordable holidays still available at the time of writing. See the newsletter for more information.

There's also a link to our choice of first and last night stopover moorings, so you can make the most of your time afloat. The last night suggestions are good for those who don't want to spend it in their home boatyard. Stalham, Horning, Wroxham, Acle and Brundall are all covered. Finally, the little village of Somerleyton is featured in the newsletter. Somerleyton is renowned for being the place that Sir Christopher Cockerell invented and developed the world's first hovercraft. There's more, together with where to moor, local attractions and places to eat and drink, in the newsletter.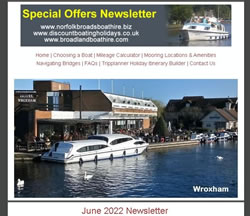 May 2022
Long sunny days and short nights. That's June for you. Daylight hours stretch from 4.30am to 9.30pm. Just think what you can do with all that time on holiday. A steady cruise down the River Ant to Buddha Bridge for lunch - An afternoon nap in the sun, before setting sail for the "bright lights" of Wroxham? An early morning visit to the marshes of Breydon to see the waterfowl? - An afternoon sitting watching life come and go on the moorings at Ranworth, followed by an evening sat outside one of the riverside bars in Horning watching the sun go down? In June, the days are as long as the Norfolk landscape is wide. Plus the hire charges are much less than you'll find just a few weeks later when the kids start their summer holidays. What's not to like? You'll find suggestions for June breaks in this month's newsletter.

You've picked your boat up and are ready to start out on your great adventure. But where do you go for your first night? We've put together a page of first & last night stopover recommendations, starting from Stalham, Wroxham, Horning, Acle and Brundall, so you can make the most of every minute of your trip. See them here: https://www.norfolkbroadsboathire.biz/suggested-first-night-last-night-stopovers.asp

Potter Heigham is well known for it's low arched medieval bridge, which acts as a barrier to larger boats wanting to cruise to Hickling, West Somerton and Horsey Mere. There are alternatives if you can't get under, which are discussed in this month's newsletter. Best places to moor, good places to eat and what's worth seeing, are all highlighted. Click the image for more information.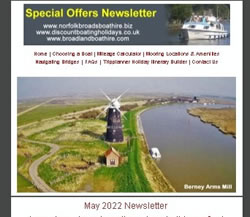 April 2022
We get an extra day's holiday on the 2nd June this year, to mark the Queen having served 70 years. It's her Platinum Jubilee. In addition, Spring Bank Holiday Monday has been moved from the end of May, to the 3rd June, enabling the country to celebrate the Jubilee, right through the following weekend. Many people have cottoned on to this opportunity to get away for a few days, but there is still availability should you wish to join them. So in this month's newsletter, I've put together twelve suggestions to get you afloat over the Platinum Jubilee.

One boatyard in Brundall, is discounting it's boats by up to £210, on holidays starting on or before the 27th May 2022. You must book the holiday no later than the 30th April, to qualify for the discount. Full details are in the newsletter.

Oulton Broad, .is a holiday playground on the southern rivers. This wide expanse of water, is home to all manner of water sports, including speedboat racing most Thursday evenings. It's well served for pubs and restaurants, and has good moorings for visitors. If you've never visited, you're missing out. .Find out more in our latest newsletter.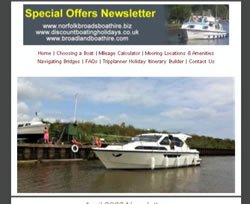 March 2022
Well, that's come around fast. Meteorological Spring is upon us, and Easter is just six weeks away. Easter marks the start of the boating season, and being mid April this year, hopefully the weather will be kind. So if you've lamented being stuck indoors all winter, and are missing the open countryside and fresh air of the Broads, now is the time to start thinking about a few days break afloat. There's still quite good availability, and this month's newsletter, gives suggestions and prices, so you can see what's available.

Further to the above, if you are able to take a midweek 4 night Easter break, one boatyard in Wroxham is discounting by up to £120 to attract you to this less popular time. There's more information in the newsletter, and it's worth pointing out that this boatyard includes fuel, damage waiver, parking and wifi in it's hire charge.

Horning is a picture-perfect village on the banks of the River Bure, just 5 miles below Wroxham. If you haven't already moored there, you will surely have cruised through, on your way to or from Wroxham. There's plenty of moorings, some of it free for overnighters. This month's village guide points out mooring locations, free or at a fee, together with a directory of pubs, restaurants, shops and things to see and do locally.Find out more in our latest newsletter.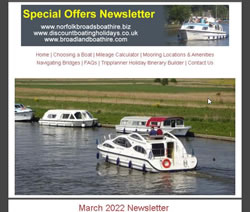 February 2022
It's interesting that bookings for 2022, are on a par with last year at this time. With the gradual winding down of testing for overseas travel, I would have expected to see a slight decline in reservations. Certainly, many people who took to the Broads in the last two years, did so as first-timers and it looks like a good proportion of them, liked what they saw, and are planning to revisit the area in the coming summer months.

One time of the year that has always sold out, is the summer school holidays. There's still good availability as I write, so in this month's newsletter, I've picked out a few examples of what's on offer during the first two weeks of August. Prices start at £161 per person, based on 4 people sharing Ruby Gem, for 4 nights on the 2nd August. You would just need to add fuel and the damage waiver to this cost.

This month we're featuring the small town of Loddon, on the River Chet, as a place you might want to visit on your voyage. Just off the River Yare, in the south of the Broads, Loddon is definitely worth an overnight stop. There's pubs, restaurants, takeaways, a lively shopping centre, with a monthly Farmers Market, all within walking distance of the moorings. Find out more in our latest newsletter.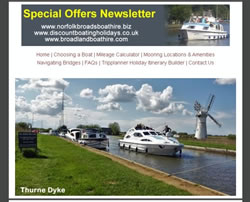 January 2022
The booking season is back underway. Having just taken our last public holiday before the Spring, this month's newsletter points to what's still available to book over Easter, Early May and The Queen's Platinum Jubilee holidays.

We also point out that one boatyard in Wroxham is currently offering a 20% discount on all of it's available boats for 4 night midweek breaks over the Early May holiday. There are savings of over £200 to be made.

Finally, the pretty village of Ranworth, situated on the shores of Malthouse Broad, is featured. It's a popular spot, so we point out where you can moor, together with sightseeing must do's and places to eat and drink.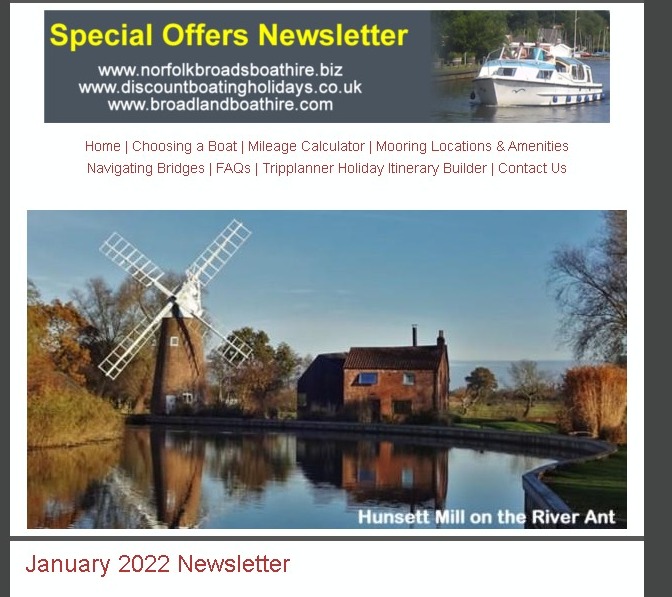 November 2021
Well, the 2021 boating season is all but over, with most boats tucked up back on their home moorings. Over the next three to four months, the boatyards will have most boats out of the water to repair, refurbish and get them ready for another summer season. But it's a short "closed season", as it all starts again mid to late February.

Remember how it felt cruising down that river, with the sun on your back, fresh air filling your lungs, and all the cares of the world just floating away? Perhaps now is the time to start planning your next trip on the Broads. Take time to see which boat suits you the best, and from which starting point, smug in the thought that booking this side of Christmas, will give you the best choice of what's available. The focus on bookings after Christmas, will inevitably be on the Summer School Holidays, and you're more likely to have to compromise to find your holiday home afloat. So this month's newsletter, gives 12 examples of what's still out there to book, over the summer break. Looking for your next holiday is half the fun, and having something to look forward to, can help get you through the dark days of winter.

Many holidaymakers will know Stalham, as it's the starting point for Richardsons, the largest boatyard on the Broads. But as a starting point, it's a place to leave, not to explore. This month's newsletter spotlights the town, highlighting what to see, where to go, where to moor if you're visiting rather than leaving, and fills you in with all the pubs, shops and services available to you.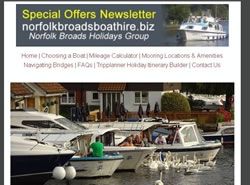 October 2021
We're entering the final month of the 2021 boating holiday season, and it's time to start thinking about next summer! I have a couple of news items to share. First, if you normally try to get away over the Spring Bank Holiday (Monday 30th May next year), it would be wise to start looking now, as at the time of writing, there are no boats left to hire, larger than six-berth cruisers for 4 or 7 nights over the holiday. Our latest newsletter, has suggestions for boats of all shapes and sizes, which are still available, to give you an idea of what's still on offer. My second bit of news, which is partly the reason why availability is already tight over Spring Bank, is that Richardsons are downsizing their fleet of 8 to 12 berth boats. You will no longer be able to hire Superior & Pearl Gems, Voyager, Acapulco, White & Pink Champagnes, Challenger, Broadland Sun, San Bernadette, and San Juan. As such, the number of boats that cater for larger parties, has been halved. If you're planning a holiday requiring an 8 to 12 berth boat, please start looking now, as availability will be really tight next year.

Reedham is a pretty little village on the banks of the River Yare.. It's proximity to Yarmouth makes it an ideal stop off point, to wait until the tidal conditions are right to pass under the bridges at Yarmouth. If the tides work for you, you can stay overnight, set off the next morning and stay the rest of the day at the seaside! There's three pubs in Reedham, and our latest newsletter points out where to moor, and what's worth a visit in the area.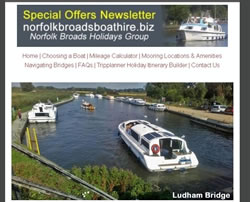 September 2021
Easter in 2022 is a little later than usual, in mid April. Hopefully, the weather will be more Spring like by then, which makes a holiday on the Broads more desirable. There's still really good availability, and the prices are currently nowhere near as high as we've seen this summer. You can get a 3 night break starting on Good Friday or a 4 night break commencing on Easter Monday from as little as £54 per person on San Rafael or Melody, 5 and 6 berth cruisers respectively. The newsletter gives some suggestions for a break away to whet your appetite.

Wroxham is the self-styled capital of the Broads, and is featured in this months newsletter. There's so much to see and do, including dining out at waterside pubs and restaurants, a trip on a narrow gauge railway, a visit to Bewilderwood, or Wroxham Barns. There's more information on mooring locations, where to eat and what to see, in our latest newsletter.