Norfolk Broads Discounts and Offers Newsletters
Here you will find our archived Newsletters which are emailed monthly to subscribers containing latest offers and discounts together with general advice for anyone wanting to hire a boat on the Norfolk Broads.

To read more, just click an image of one of the newsletters.
October 2023

Oh dear, October is here and it won't be long before the nation is consigned to the long drudge of winter. If you've enjoyed getting out and about with the family over the summer, then why not take advantage of the chance to take the kids on an adventure on the Norfolk Broads this October half term holiday? Everything is still open, the pubs and restaurants are quieter and more appreciative of your custom. You won't need to worry about finding a mooring and to cap it all, the hire charges are about half what they were over the last school holidays in August. So if you've got a week to spare while the kids are off school, why not take in the Autumn colours on a holiday afloat? Our latest newsletter has examples of 4 and 7 night breaks available to book right now.

Neatishead on the River Ant, has one of the most highly recommended pubs on the Broads. The White Horse is a must-visit for its food and range of real ales. You can moor either at the local staithe or at nearby Gays Staithe. Plus there's lots to see and do nearby. For more information on this pretty little village, see our latest newsletter.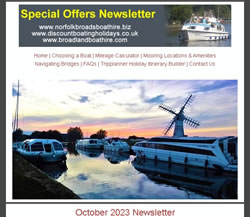 September 2023

The kids are about to go back to school and the throngs of tourists who visit the Norfolk Broads over the Summer School Break, will by now have subsided. So all of a sudden, moorings will be easier to come by, it won't be as difficult to book your favourite table for that pub meal, and you won't have to shell out so much to book your boat in the first place. Autumn is a great time to set sail on a Norfolk Broads adventure. The seasonal colours light up the landscape and the weather is generally usable right up to the October Half Term. With that in mind, for this month's newsletter, I've put together a selection of 4 night and week long break suggestions still available to book. If they spark your interest, check out our full availability search further down the page.

If you've sailed the Broads before, you're bound to have passed under Ludham Bridge on the River Bure. It's the gateway to the upper stretches of the pretty River Ant, and just a 10 minute walk from the picturesque village of Ludham. But don't just pass it by. It's well worth a lunchtime or evening stop, with it's two pubs, restaurant and shops. More information including where you can moor, is in our latest newsletter.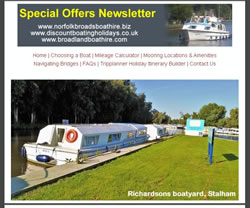 August 2023

Well, there shouldn't be a water shortage this year with all the rain we've had recently (cue the hosepipe ban warnings). It's got to improve soon surely? Well, the BBC long-range weather forecasting unit thinks so. They are predicting that the second half of August will show an improvement with slightly higher than average temperatures and (fingers crossed) much less rain! So perhaps it's time to plan a short break or full week holiday on the beautiful Norfolk Broads whilst the kids are still off school. You can captain your own boat, Gold Gem for example starting 22nd August, for 4 nights from just £137 per person plus fuel and damage waiver. Our August newsletter gives some examples of what's still available starting from mid-August.

St Olaves is a small village located beside the River Waveney, around halfway between Yarmouth at one end and Oulton Broad at the other. As such, it makes a great lunchtime or evening stop off point for those making the trip between these two larger centres. The village has certain historic value in that the Bell Inn is reputed to be the oldest pub on the Broads. Also nearby, you will find the ruins of the 14th-century St Olaves Priory. See this month's newsletter for more information on the pub and the Priory, together with hints on the best places to moor.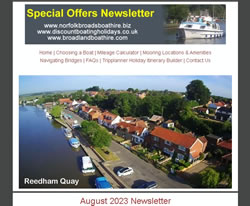 July 2023

We're less than a month from the main school holidays, and those people with children will know only too well how much prices ramp up for the summer break. Yet, you can save hundreds of pounds by bringing your own holiday forward by a couple of weeks or so. For example, hiring Commander A for a week in mid-July is £463 cheaper than starting in the month of August. Not everyone has children in their party, so early to mid-July is a good time to travel. You will save money, and experience a quieter time on the rivers. Our July newsletter gives some examples of what's still available starting in the next 2 to 3 weeks.

Stokesby is a little village on the banks of the River Bure and is only around 9 miles from Yarmouth Yacht Station. As such, if you're planning to spend the day at the seaside resort, Stokesby makes a good jump-off port of call, being around 2 hours 15 mins cruise time away. If you time it right and the tides allow, you could be in Yarmouth for 10 am ready to head to the beach. Stokesby has a riverside pub, a cake shop, and a children's play area making it a perfect location to pass the time of day. For more information on where to moor, what to do, and where to eat, see our latest newsletter.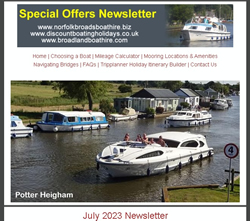 June 2023

Though the rate of inflation is slowing, food prices show no sign of stabilising anytime soon. As a result, some people will be considering forgoing their summer holiday this year to make ends meet. If you're in that camp, can I introduce you to our budget range of cruisers? Most have not increased in price since last year, and represent good value for a family trip. We have the 4-berth Salerno cruiser for £589 for a 4-night midweek break starting on the 7th August. Or you could have Gold Gem, a 6-berth cruiser for £860 starting on the 14th August for 4 nights. If you can manage a week-long cruise, we have Golden Bridge, a 4-berth cruiser starting on the 4th August for just under a grand at £902. Or if you have a larger party, there's the 7-berth Glistening Horizon, yours for the week for £1647. Fuel and damage waiver needs to be added to these prices. See our latest newsletter for more details.

You'll find Acle on the banks of the River Bure, around 10 miles from Great Yarmouth. As such, it makes a great overnight stopping-off point for those wanting to spend a full day at the seaside resort. Subject to the prevailing tidal conditions, you can be arriving at Yarmouth Yacht Station around 10 am, the time when the previous day's cruisers are setting off for other destinations. Acle is a sought-after stopover in its own right, with the ever-popular Bridge Inn close to various good mooring spots. For more information on where to moor, what to do, and where to eat, see our latest newsletter.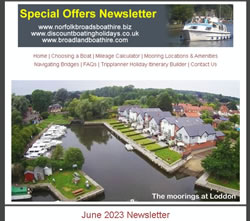 May 2023

What are you doing this bank holiday? You could be captaining your own cruiser down the rivers of the Norfolk Broads. Spring Bank, at the other end of the month, marks the traditional start of the main boating season.

It's such a lovely time to get back into the countryside and enjoy the local wildlife. You might spot some of the resident bird species, such as the kingfisher or the marsh harrier, or catch a glimpse of the elusive otters that call the Broads home. If you're interested in history, the Norfolk Broads are also home to some fascinating historical sites. You can visit the ruins of St. Benet's Abbey, a medieval monastery that dates back to the 9th century, explore the ancient market town of Beccles, or walk among the Roman fort walls of Burgh Castle. Don't let another public holiday slip by without making memories for you and your family. Want some inspiration? Take a look at our latest newsletter detailing 12 breaks still available to book at the time of writing.

Rockland St Mary is a sleepy picturesque village just off the River Yare. To get to it, you need to travel across Rockland Broad, surely one of the prettiest stretches of water across the whole of Broadland. Feel like your cruising close to nature in this peaceful haven for waterfowl and other wildlife. We tell you where you can moor, where to buy provisions, and what's available to you if you want to eat out. It's all in our May newsletter.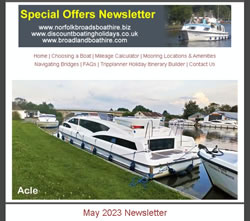 April 2023

Just a week to go before the boating season gets properly underway. The boats have all been polished and prepared for a busy season and will be at their best. If you're thinking of getting away this Easter, there's still limited availability, but you need to get your skates on.

Our latest newsletter focuses on the number of public holidays we have in the following month of May. With the Early May, Kings Coronation, and Spring Bank public holidays, all occurring within the month, there's lots of scope to sneak perhaps a few days or a week on the wonderful Norfolk Broads. Spring Bank has the least availability, but if you're quick, you can still come across a suitable boat for your holiday. The other two dates are still showing a good choice of craft. So I've put together 12 suggested breaks, spread over the three public holidays. See the newsletter for more details.

Ludham on the River Thurne (not to be confused with Ludham Bridge on the River Ant), is such a pretty little village. Walk down its village centre and you feel like you've stepped back in time, with its local businesses and thatched roofs. The nearest moorings are at Womack Water, a 10 to 15-minute walk away. See our latest newsletter for mooring information, where to eat, and what to see.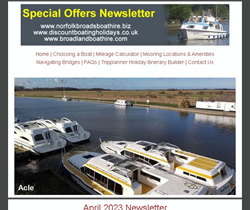 March 2023

It's the 1st March, which means it's meteorological spring! Well. it doesn't feel like it at the moment, but longer days and gently rising temperatures are just around the corner. The Norfolk Broads are coming alive. Easter is just six weeks away as I write. Who's for a holiday afloat to renew our association with the great outdoors, the wildlife, and letting your cares just float away on the wonderful Norfolk Broads? The boats have been given a wash and brush up, pubs and restaurants are now open and everything is revitalised for the start of a new season.

There is still availability if you want to get away on a family adventure this Easter, with prices starting at £89 per person for a 4-night stay aboard Merrymore, an eight-berth cruiser starting from Wroxham. This month's newsletter lists twelve suggestions for boats of all standards, available for a break over the Easter period.

Somerleyton is a great lunchtime stopover if you're on your way to Oulton Broad. For a small village, Somerleyton has much going for it, including the nearby Somerleyton Hall and being the home of the invention of the hovercraft. For what to see, places to eat, and where to moor, see this month's newsletter.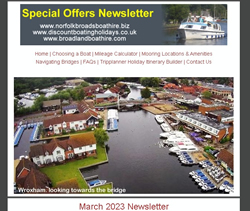 February 2023

It only seems a few weeks since the booking season came to an end. Amazingly, it all starts again for the children's February Half Term break. One boatyard has prioritised having a small number of its craft refurbished and available to hire over the school holiday. So if you're aching to get the family together for a few days or a week away, take a look at what's on offer. There's more information in this month's newsletter.

The booking season is now in full swing, and although there is still good availability across all dates, you may find that a certain boat type or some popular dates make finding your ideal boat difficult. The newsletter talks about our "Other Boats of this Design" finder. Put simply, if you like the look of a particular boat, but can't find availability, use this search to bring up a list of outwardly similar craft to compare starting points, deck plans, and a brief rundown of its onboard facilities. By clicking the availability button for each boat, you can then compare hire charges to see which is the better value for the facilities offered.

Great Yarmouth needs no introduction and is a very popular stop-off point. it's featured in this month's newsletter. Yarmouth sits at the confluence of the Rivers Bure and Yare and as such, needs special care and attention when mooring. The newsletter points out the intricacies of coming into moor at the Yacht Station, what there is to see, where you can eat, and gives a link to a comprehensive guide to travelling to or through Yarmouth.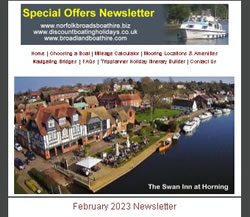 January 2023

New Year, new boating season is on its way! Well, in less than six weeks, the holiday fleets will begin being let for their first weeks of the season. You can now hire from the week commencing 13th February, to cover the Half Term Break. Following that, the Broads really awakens at Easter, when the full fleet is available to hire. There's also an extra public holiday on Monday the 8th May to mark the King's Coronation. Add a few days from the weekend, and you have yourselves a short break.

So with all these break possibilities, I've introduced a search tool to help find holiday availability over these public holidays. More information is in this month's newsletter. The holiday sales have got underway, with four boatyards offering up to a 10% discount if you book before the end of March. In most cases, this applies right across the summer too.

The village of Cantley, on the river Yare, is dominated by the huge sugar processing factory that lines the bank. Cantley is the subject of our latest in-depth look at villages of the Broads. Cantley has its own train station, so in addition to some fine walks around the area, you can be in the city of Norwich in a little over 20 minutes. To find out more about what there is to see, where you can eat and the free moorings, see our latest newsletter.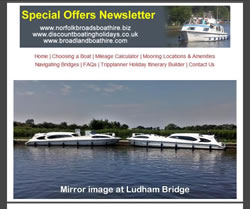 November 2022

Well, the boating season is more or less at an end, and now begins the task of lifting the boats in preparation of them being worked on, to get them looking refreshed when the new boating year begins around mid-February. We've already put the clocks back, so we know we're all on our way to shorter days and miserable weather between now and then. Nevertheless, bookings for next year, especially the summer school holidays, will continue strongly for a while yet. So this month's newsletter is focused on what's available over the key six weeks or so of the children's school holiday. Understandably, disposable income will be tight for some, so I've hand-picked a variety of offers that range from budget through to superior boats. There's still good availability, though once the booking season proper gets going in January, the best deals will go first.

Horsey Mere, that's an unusual name, isn't it? It refers to a broad located on the far side of Potter Heigham Bridge. As few boats can reliably get under this bridge, the areas above (around 5 miles of river) have been protected from the commercialisation you see in some centres, and the feel when cruising is that you're almost travelling back in time. Horsey Mere leads on to Horsey Dyke and its wind pump, a very picturesque setting. The best way to visit if you can't get under the bridge at Potter Heigham, is to moor up and hire a day boat from one of the local boatyards there. It's well worth a visit. To find out more about what there is to see, where you can eat and the free moorings, see our latest newsletter.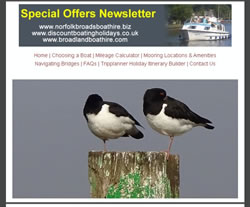 October 2022
The end of the boating season is almost upon us, though it won't go out without a last hurrah for the October Half Term week. The last week of October will see an increase in the number of visitors, wanting to make the most of this last usable school holiday of the boating season. It's popular as the prices are around half that of August, and everything is still open and welcoming. The pubs, restaurants, and shops don't start to wind down until the start of November. So if you're trying to think of somewhere that you can get all the family together before winter proper sets in, you'll find a few suggestions in our latest newsletter. Prices start at £113 per person including fuel deposit and security waiver aboard the six-berth San Lucia from Stalham (details in the newsletter).

Burgh Castle is a small village on the edge of Breydon Water, so quite close to Great Yarmouth. As such, it makes a good stop-off point to wait for the tides to lower should your craft need more headroom to get under the bridges at Yarmouth. Burgh Castle has its interests and is worth a visit in its own right. The village is named after a third-century Roman Fort, the walls of which can still be seen on the adjacent site. Also, a pathway along the edge of Breydon Water will delight those who like spotting wildlife. For more information, including help on where to moor for free, see our newsletter.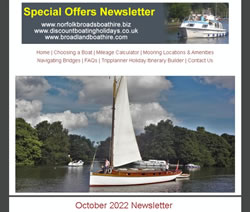 September 2022

The weather has overall been really kind to us over the summer school holidays, and it won't be long before the children are back in class. But that doesn't have to be the end of the family adventures this year. The kids are off again in the October Half Term week, and recognising this, one boatyard has reduced its prices by 10% for all holidays and short breaks beginning anytime in the month of October. So whether you want to relive your week's break with the kids, or just spend time with your partner for a few days outside the school holiday, you can now do it at a discounted price. Prices are already up to half what they would be in August, and the rivers are much quieter meaning you're more likely to get your first-choice mooring spots.

Bookings for 2023 are already coming in, so there's a feature in our latest newsletter discussing how to search for the facilities you desire in your ideal cruiser. The village of Coltishall, to be found beyond that bridge in Wroxham on the River Bure, is a lovely place to spend a day or overnight. Picturesque free moorings, and a choice of eating places, plus what there is to see are highlighted in the newsletter.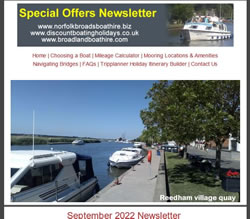 August 2022

The summer seems to be ticking on at an alarming rate. The last public holiday of the summer is on Monday 29th August. Rather than just letting it slip by, why not organise a family adventure on the Norfolk Broads? We have 3-night weekend breaks starting on the previous Saturday, 4-night midweek breaks beginning on the Bank Holiday Monday, and full weeks available for those with enough annual leave remaining. Prices start at less than £150 per person onboard Broadland Orion, a 4-berth cruiser available on the 27th August for 3 nights. I've come up with twelve example breaks that I think will suit all pockets, detailed in this month's newsletter.
This month, we feature the little village of Surlingham on the River Yare. The moorings are outside the well-thought-of Surlingham Ferry Inn. This community-run pub is situated on a bend in the river, just a mile or so from Brundall. There's lots to see and do once there. Read our guide to the village which details where to moor for free, what's worth seeing nearby and find out about the "graveyard" holding 13 wherries which were purposefully scuttled here.