Norfolk Broads Discounts and Offers Newsletters
Here you will find our archived Newsletters which are emailed monthly to subscribers containing latest offers and discounts together with general advice for anyone wanting to hire a boat on the Norfolk Broads.

To read more, just click an image of one of the newsletters.
January 2022
The booking season is back underway. Having just taken our last public holiday before the Spring, this month's newsletter points to what's still available to book over Easter, Early May and The Queen's Platinum Jubilee holidays.

We also point out that one boatard in Wroxham is currently offering a 20% discount on all of it's available boats for 4 night midweek breaks over the Early May holiday. There are savings of over £200 to be made.

Finally, the pretty village of Ranworth, situated on the shores of Malthouse Broad, is featured. It's a popular spot, so we point out where you can moor, together with sightseeing must do's and places to eat and drink.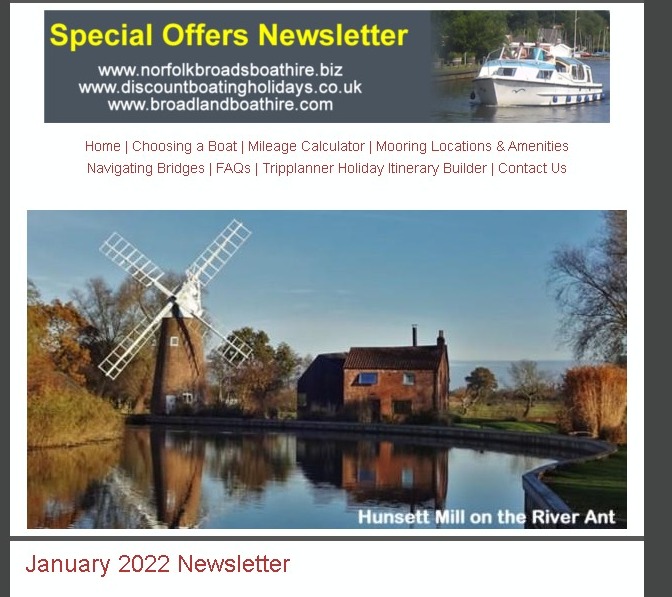 November 2021
Well, the 2021 boating season is all but over, with most boats tucked up back on their home moorings. Over the next three to four months, the boatyards will have most boats out of the water to repair, refurbish and get them ready for another summer season. But it's a short "closed season", as it all starts again mid to late February.

Remember how it felt cruising down that river, with the sun on your back, fresh air filling your lungs, and all the cares of the world just floating away? Perhaps now is the time to start planning your next trip on the Broads. Take time to see which boat suits you the best, and from which starting point, smug in the thought that booking this side of Christmas, will give you the best choice of what's available. The focus on bookings after Christmas, will inevitably be on the Summer School Holidays, and you're more likely to have to compromise to find your holiday home afloat. So this month's newsletter, gives 12 examples of what's still out there to book, over the summer break. Looking for your next holiday is half the fun, and having something to look forward to, can help get you through the dark days of winter.

Many holidaymakers will know Stalham, as it's the starting point for Richardsons, the largest boatyard on the Broads. But as a starting point, it's a place to leave, not to explore. This month's newsletter spotlights the town, highlighting what to see, where to go, where to moor if you're visiting rather than leaving, and fills you in with all the pubs, shops and services available to you.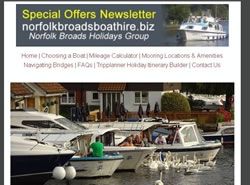 October 2021
We're entering the final month of the 2021 boating holiday season, and it's time to start thinking about next summer! I have a couple of news items to share. First, if you normally try to get away over the Spring Bank Holiday (Monday 30th May next year), it would be wise to start looking now, as at the time of writing, there are no boats left to hire, larger than six-berth cruisers for 4 or 7 nights over the holiday. Our latest newsletter, has suggestions for boats of all shapes and sizes, which are still available, to give you an idea of what's still on offer. My second bit of news, which is partly the reason why availability is already tight over Spring Bank, is that Richardsons are downsizing their fleet of 8 to 12 berth boats. You will no longer be able to hire Superior & Pearl Gems, Voyager, Acapulco, White & Pink Champagnes, Challenger, Broadland Sun, San Bernadette, and San Juan. As such, the number of boats that cater for larger parties, has been halved. If you're planning a holiday requiring an 8 to 12 berth boat, please start looking now, as availability will be really tight next year.

Reedham is a pretty little village on the banks of the River Yare.. It's proximity to Yarmouth makes it an ideal stop off point, to wait until the tidal conditions are right to pass under the bridges at Yarmouth. If the tides work for you, you can stay overnight, set off the next morning and stay the rest of the day at the seaside! There's three pubs in Reedham, and our latest newsletter points out where to moor, and what's worth a visit in the area.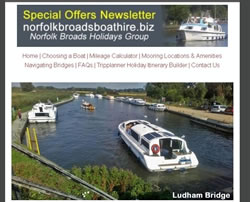 September 2021
Easter in 2022 is a little later than usual, in mid April. Hopefully, the weather will be more Spring like by then, which makes a holiday on the Broads more desirable. There's still really good availability, and the prices are currently nowhere near as high as we've seen this summer. You can get a 3 night break starting on Good Friday or a 4 night break commencing on Easter Monday from as little as £54 per person on San Rafael or Melody, 5 and 6 berth cruisers respectively. The newsletter gives some suggestions for a break away to whet your appetite.

Wroxham is the self-styled capital of the Broads, and is featured in this months newsletter. There's so much to see and do, including dining out at waterside pubs and restaurants, a trip on a narrow gauge railway, a visit to Bewilderwood, or Wroxham Barns. There's more information on mooring locations, where to eat and what to see, in our latest newsletter.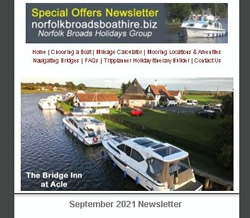 August 2021
There's as much chance of finding a needle in a haystack, as locating a holiday in August or September at the moment. It's a staycation year, that's for sure. So why not consider breaking away for a few days or a week in October? Prices are around half what they are in high season. The pubs, restaurants, attractions and moorings, are all still open until the end of the month, and the autumn colours will be a delight in the rich countryside of the Norfolk Broads. The newsletter gives a flavour of what you can get for your money in October, with some example holidays

Cantley, famous for hosting one of the four sugar beet factories in the UK, is our featured stopover place this month. There's plenty to see, with guided walks along the River Yare. Cantley also has its own train station, making it handy for visiting Norwich or Great Yarmouth. There's more information on mooring locations and where to eat, in our latest newsletter.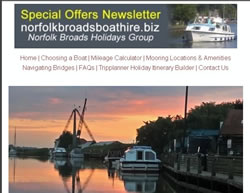 July 2021
If you want to try to get a holiday afloat before October this year, you're going to be disappointed, unless you can fit a 3 night weekend break in. All other durations are now relying on cancellations right up to the end of September. So with many people having missed the boat and deciding to book for next year, I highlighted some of the option available for 2022. These included breaks over the Platinum Jubilee extra public holidays in early June.

There's also a feature on How Hill, one of the loveliest riverside locations on the River Ant. We have a guide to what to do and where to go in our latest newsletter.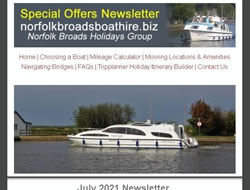 June 2021
With the lack of availability throughout the summer, apart from some weekend breaks, I drew attention to what we still have left to sell in the last month of September, and the first in October. Prices are up to half the cost of a break in the school holidays, and there should be less pressure on moorings by that time of the year. The weather is usually still good, and everything is still open to enjoy.

How Hill is a lovely spot on the River Ant, between Ludham Bridge and Irstead, It has plentiful moorings, which are set beside a The How Hill Educational Trust. There are secret gardens, boardwalks and an electric boat ride through the "off track" dykes that connect to the Ant. More information is in this month;s newsletter.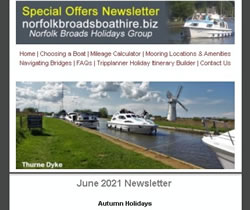 May 2021
The cruisers are back out on the rivers, and once again families are enjoying quality time together. With pubs and restaurants not being able to open up to indoor dining until (hopefully) the 17th of this month, business owners have had to cater for their customer's needs in an outdoor setting. Many have invested large sums to erect or enhance terraces, and riverside gardens, which will prove popular with holidaymakers, throughout the season. The Lion at Thurne, The Dog at Ludham Bridge and the Bridge Inn at Acle in particular, have made big improvements to enhance Al Fresco dining. So why not take a short break, or a week in June, at a time when prices are lower, and it will be easier to bag that table overlooking the river? There's still limited availability, and I've put some boating offers in the newsletter, which are still available at the time of writing.

Reedham Ferry, is a chain driven vessel which takes cars and passengers across the River Yare. Nearby is the Reedham Ferry Inn, and the village of Reedham is a 30 minute walk from here. It makes a good stopover if you're waiting for the correct tidal conditions to cross Breydon Water. There's more information on Norfolk's last chain ferry, how to pass it safely, where to moor and what's good to visit locally, in our latest newsletter.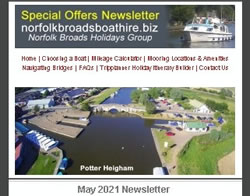 April 2021
So intense has been the desire to get a booking over the summer school holidays in the UK this year, that many summer school holiday dates, are all but sold out. However, the week beginning 27th/28th August, still shows good availability, and you will find some holiday suggestions in our latest newsletter. Some local authorities are not welcoming their pupils back from the summer holidays until Monday 6th September. So perhaps it might be worth contacting your children's school to see when they are due back, in the hope of being able to sneak a week's holiday in?

Wayford Bridge is on the on a northern artery of the River Ant. It's a picturesque setting, just a few miles short of the head of navigation at Dilham. If you like that countryside feel, you will love Wayford. Nearby is an acclaimed hotel restaurant, and a garden centre to spend time in. For more information about what's worth a visit, where to eat and drink, and .where you can moor, see our latest newsletter.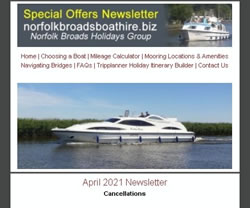 March 2021
At last we've been given dates when we hope to be back in to the free world! The 12th April signals the opening up of self catering holidays in England, while the 17th May is the date we hope to be able to dine indoors at one of the many pubs and cafes of the Norfolk Broads. They are dates which have not escaped the notice of the UK holidaymaker, as Spring Bank and the summer school holidays are already heavily booked. There are still vacancies on the last week of August - the 20th/21st, so our latest newsletter puts together some 4 and 7 night options to get the family away before the kids have to go back to school. These holidays won't be there long, so please don't "miss the boat".

South Walsham and it's adjacent Broad, off the River Bure, is a picturesque mooring which makes a peaceful lunch or overnight stop, if you just want to watch the sun go down on a relaxing day. There are no pubs nearby, and you're miles from the nearest through road, which makes the birdsong, and the waterfowl splashing in the Broad, sound much sweeter. The Fairhaven Woodland and Water Gardens are nearby, and definitely worth a visit. For more information on where to moor, what to see, and where to eat, see our newsletter.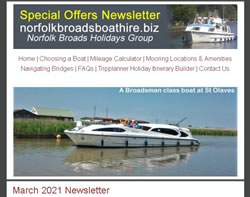 February 2021
The predictions that it looks like another Staycation year, are looking correct. With our borders all but closed, and the slow rate of vaccination in Europe, it's not surprising people are looking closer to home for their summer holidays. Spring Bank still has availability, but is heavily booked, and the Summer School Holiday weeks now show less than half the availability compared to last year at this time. The message is, if you're planning a holiday afloat on the Norfolk Broads, don't leave it until the last minute, or you may well literally miss the boat. Our latest newsletter puts together some suggestions for holidays in August, highlighting that there is still availability, though less choice.

Somerleyton, may seem just a sleepy village on the banks of the River Waveney, but it has historic connections to Sir Christopher Cockerill, the inventor of the Hovercraft. His craft were built and tested on the river here. Somerleyton Hall, a stately home which was built in 1240 and is open to the public, is in the village. It's grounds house the pleasure gardens and a Yew hedge maze which is 800 yards from the centre to the exit. For more information on where to moor, what to see, and where to eat, see our newsletter.