Suggestion for a Norfolk Broads Itinerary
- option to print at foot of page

One week's Norfolk Broads boat hire starting from Wroxham.
This itinerary includes many of the villages and towns of the northern Broads. We have suggested stop-off points where moorings are easier to manage for those with less confidence or the smaller crew.
*Click on the

red links

below for more location information
*

Click the map

for a larger image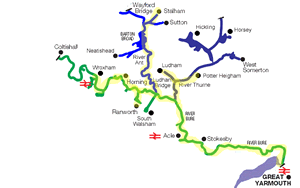 Day 1 Afternoon
Overnight Wroxham

0 Miles
Stay within your home boatyard moorings.
Wroxham
has much to offer with extensive shopping. Younger family members might like to visit Bewilderwood Adventure Park (short taxi ride or the Bure Valley Miniature Railway (15 minute walk).
Day 2 Morning
Wroxham to Ranworth

7 Miles
1hr & 45mins cruise time

You pass the Hoveton nature trail on your left as you leave Wroxham, then Horning village en-route to
Ranworth
. Moor stern-on at the village green. St Helens church is nearby where a climb to the top of the steeple will reward you with panoramic views. A board-walk through the trees takes you to the visitor centre with bird-watching hide.
Day 2 Afternoon
Ranworth to How Hill

4.5 Miles
1hr cruise time
Your journey takes you out of Ranworth Broad, under the road bridge at Ludham Bridge on the river Ant and on towards the
How Hill
Environmental Study Centre with its nature walks, water trail and Toadhill Cottage.
Day 3 Morning
How Hill to Stalham

4.5 Miles
1hr cruise time

Soon after leaving How Hill you come across the pretty village of Irstead. Further on is Barton Broad where the channel leads you towards
Stalham.
Moor at the large Richardsons boatyard. Nearby is the Broads Museum charting life on the Norfolk Broads in bygone times. A 15 minute walk takes you to the large village centre.
Day 3 Afternoon
Stalham to Ludham Bridge

6.5 Miles
1hr & 30mins cruise time
Back down the river Ant, across Barton Broad, through Irstead mooring either side of the river just before the bridge at
Ludham Bridge
.
Day 4 Morning
Ludham Bridge to Potter Heigham

7 Miles
1hr & 45mins cruise time

A short cruise takes you to the mouth of the river Ant, and out onto the river Bure. Eventually on your left you will see the entrance to the River Thurne, marked by a large white windmill. You pass Thurne Dyke on your right, the entrance to Womack Water and Ludham on your left before
Potter Heigham
appears with its very low arched road bridge.
Day 4 Afternoon
Potter Heigham to Acle

6 Miles
1hr & 15mins cruise time

Turn back down the river Thurne past Thurne Dyke and its windmill before exiting onto the river Bure. You pass the entrance to Upton Dyke on the right before the village of
Acle
comes into view.
Day 5 Morning
Acle to Yarmouth

10 Miles
2hrs & 15mins cruise time

You will need to consult your tide tables to ensure you are travelling at the correct state of the tide so as to arrive at
Great Yarmouth
around low or slack water. The moorings at Yarmouth Yacht Station (not just for yachts!) are well sign-posted and are manned by rangers who will help you moor and tie up for the day or overnight.
Day 5 Afternoon
at Yarmouth

0 Miles

Great Yarmouth has much to offer the family including beaches, a funfair, museums, a Sealife Centre, piers and shopping in gift shops, supermarkets and department stores.
Day 6 Morning
Yarmouth to Stracey Arms

8 Miles
1hr & 30mins cruise time

Consult the tide tables to ensure you are travelling at the correct state of tide. Though you are travelling back up the River Bure, you may need to pass under the low bridges and turn around on Breydon Water if the current is too strong to turn your boat at the moorings. Keep well away from shallow banks en-route to
Stracey Arms
windmill.
Day 6 Afternoon
Stracey Arms to Ludham

7 Miles
1hr & 30mins cruise time

A short cruise from Stracey Arms brings you to the mouth of the River Thurne once more. Travel up past Thurne Dyke again and look for the sign for Womack Water on your left. Proceed slowly until you come to the wide expanse that is Womack Water. Moor at the village green.
Ludham
village is a 15 minute walk away and has an "olde worlde" feel to it.
Day 7 Morning
Ludham to South Walsham


5.5 Miles
1hr & 15mins cruise time

Cruise back towards the mouth of the river Thurne then up the river Bure towards your next stop,
South Walsham
Broad, which is sign-posted on your left. A dyke leads you towards the broad where you can turn before mooring along the dyke amidst trees and wild-flowers.
Day 7 Afternoon
South Walsham to Horning

4 miles
1hr cruise time

Out onto the River Bure you pass the entrance to Ranworth Broad and on towards Horning Village where we will spend the night. This is a picturesque area with pleasant walks.
Day 8 Morning
Horning to Wroxham

5 Miles
1hr 15mins cruise time

An early start is required in order to get back to your boatyard by 9am. The journey back takes you past Salhouse and Wroxham Broads before you cruise into
Wroxham
and to your boatyard.